You might have heard people say that it takes practice to become proficient at public speaking; it is not a skill we are born with. Anyone may learn public speaking; it is not just for a small group of people.
Public speaking – what is it? Speaking in front of a live audience is referred to as public speaking. This can involve giving a speech in front of an audience, teaching a class, selling people on a new product, or presenting research findings for work. Public speaking occasionally includes adding visuals, like computerized slide shows, to the lecture.
Humans have always had the ability to speak. Effective public speaking has become essential in today's globalized society, both for individuals and for organizations. The linguistic skill of public speaking positions itself as a "cause" with a distinct goal to "affect" the intended audience. It gives the speaker the ability to directly affect the audience, making it a useful tool to use in a variety of contexts.
However, due to their lack of expertise in speech tactics and delivery nuances, not all speakers can achieve the desired effect through their act of speaking. Even though we are all capable of speaking, many of us frequently experience speech anxiety when required to do so in private and public contexts. Whether you work in communications or not, you might discover that you need to speak in front of an audience. For instance, you might be required to speak at corporate meetings, events, or other gatherings in many organizations. You could also need to stand in front of an audience in other contexts, such as community events, family gatherings, and other social occasions. Whatever the situation, public speaking is a fantastic talent to master for your personal growth. It could also be interviews, presentations, meetings, conferences, group discussions, and many other speaking-related challenges in the modern, constantly evolving corporate world.
Public speaking is often listed as one of people's worst anxieties, but with practice, you can learn to boost your confidence and develop your speaking abilities so that you may love public speaking in any setting. For leadership positions in the business sector, community organizations, government, and other settings, being a skilled speaker are frequently essential.
Useful Resources: professional development training courses | online communication courses
Training in public speaking will teach you how to persuade skeptics, effectively impart knowledge, and maintain listeners' interest. Public speaking courses or training will help you with crucial body language to use when speaking in front of an audience and how to properly prepare a speech so that it is appropriate for the audience.
Effective speech delivery, audience engagement, and group motivation are a few of the common objectives that are expected from training or a course in public speaking.
A well-organized narrative, logic, research, and other techniques are often used by professional speakers to assist them to convey their thoughts. Using the right rehearsal methods might also assist your audience more easily following the flow of your presentation. You can learn how to use these concepts to improve your public speaking skills. Such course's goal is to help students and professionals become more confident, devoted, and effective speakers by improving their speech and personalities.
To be effective, the speaker needs to be able to express their ideas succinctly, change up their tempo and tone, and interact with the audience.
We are frequently asked to offer a few comments or opinions in work, school, college, and public settings. People tasked with giving such remarks frequently struggle. They could lack a topic for conversation, ramble aimlessly, or just be difficult to listen to. They are sometimes out of words.
You need to be able to greatly lessen your fear of public speaking by the end of the training courses, employ rehearsal techniques to hone a powerful, vibrant speaking voice, and deliver presentations with animated movements and gestures. It will assist you in swiftly mastering the foundations of speaking if you are a novice.
What topics will you cover through such courses?
Based on your strengths and weaknesses, you will develop your presentational abilities.
You will examine your presentation style introspectively, noting both your strengths and opportunities for development.
You will discover how to inject personality and vitality into your presentation style as well as how to convey information to your audience intelligibly and effectively without resorting to jargon or assuming that they are already familiar with the topic.
You will Recognize how to hone and elevate your public speaking.
You will learn how to polish your presentation abilities and sell to whoever your audience may be, particularly through improvisation and storytelling, whether you are presenting at a formal meeting or speaking to 500 people on stage.
Additionally, you will learn how to deal with problematic audience behavior and how to handle difficult and contentious questions. You will also learn what to do when things go wrong.
Finally, you will put what you have learned into practice and put it into use while sharing your opinions and concerns with other students.
Other aspects that you will possess-
1. Using confidence when speaking
Confidence is a quality of a skilled public speaker and is essential to mastering great presentation techniques. You may easily implement the course to include confidence-building in your training and development programme for public and persuasive speaking.
Such training programme offers fundamental information on successful communication and aids in removing obstacles when giving a speech. It delves further into the fundamentals of a speech and other aspects of public speaking.
The courses will aid you with subjects like active listening and how to distinguish between open-ended and closed-ended inquiries which are important for enhancing public speaking abilities. It also provides examples of best practices for delivering good retail communication. With the help of this training, your staff members, can profit from reinforced fundamental ideas in persuasive writing and effective communication. It will provide a general development in speech delivery in a perceptive manner and act as a guide to various forms of public speaking with relevance to numerous emerging situational settings.
Success in life depends on effective communication, and a competitive business climate is no exception. Strategic communication skills become increasingly important when professionals advance into positions of greater responsibility for realizing their goals, objectives, vision, and mission.
The programmes will present scenarios that demand critical thinking, comprehension of constantly changing market scenarios, intertwined changes in organizational structure, significant decision-making, etc. It will also introduce new theoretical and applied strategic frameworks for communication, illustrating their use in various domestic and global company scenarios. The main contribution is to offer a novel communication handbook that can assist corporate executives in putting their vision and mission into practice.
Such public speaking courses does not follow the usual finishing school curriculum that includes instruction in grooming etiquette and English language competency. It concerns leaders' use of language to communicate their strategic understanding and assessment of businesses, markets, and end users.
What you will discover? (Take-aways)
Being able to express well.
Develop strategic communication and leadership skills.
A cutting-edge communication manual that can assist business executives in operationalizing their vision and mission.
Develop an understanding of strategies that can influence the course of difficult business situations by requiring critical thought.
Approach communication analytics neo-classically.
Clearly communicate your conclusions and suggestions to your group and organization.
Who stands to gain?
Executives and professionals want to increase their impact and performance through effective and impactful leadership communication at all levels.
There are online public speaking courses that can help you develop as a speaker. With the help of these classes, you can conquer your public speaking anxiety while also developing your communication skills, feeling comfortable, and presentation skills.
You will gain more confidence as a public speaker by using these professional public speaking techniques. Those seeking to advance their knowledge and skills might take courses tailored toward intermediate and experienced professionals.
According to a survey by the National Association of Colleges and Employers (2009) (published in Job Outlook 2009) Communication skills both verbal and written is of crucial competencies employers look for. Teamwork, interpersonal skills, and analytical skills round out the list of other competencies. Recruiters for elite graduate programmes are rumored to also consider candidates' "soft" communication abilities in addition to their "hard" expertise. A successful candidate stands out from the competition thanks to this "soft" skill. People must therefore learn how to talk effectively and persuasively in front of others, and this goes beyond graduates and job seekers. To help them stand out among their peers, these public speaking training will teach the participants the fundamentals of public speaking.
The participants in this public speaking training will learn the fundamentals of public speaking so they may stand out among others, both professionally and personally.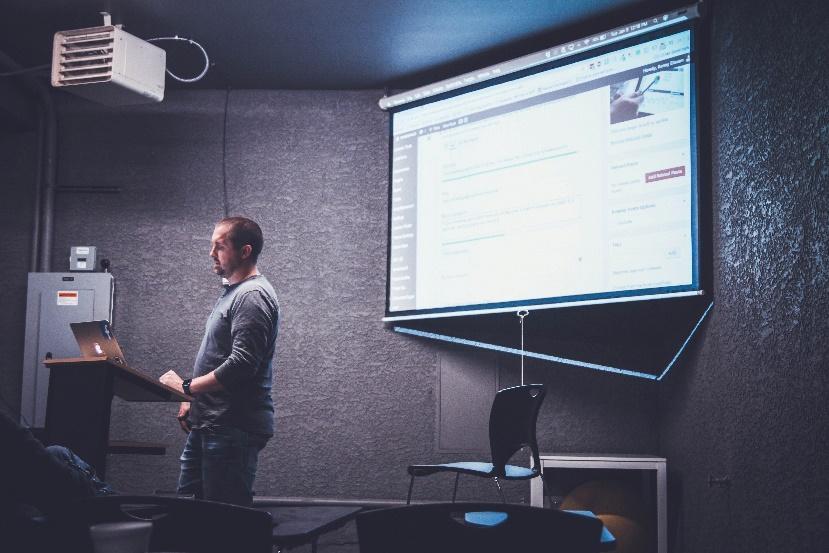 A good presenter possesses two distinguishing traits: the necessary abilities and individual confidence. Knowing what you want to say and feeling confident in your communication abilities are the two things that give you confidence.
What do you hope to accomplish?
Think back on your own presentation style, recognizing both your strong points and areas for development.
Clearly and effectively communicate facts to your audience without relying on a third party.
Do not rely on jargon or the audience's prior topic knowledge to communicate information to them clearly and effectively.
Apply and put into practice what you have learned in theory.
Talk about your concerns about presenting with other students who are in a similar situation so that you can understand more about their worries.
Develop good audience interaction skills by learning how to cope with everything from tough conduct to answering challenging and contentious questions.
Find networks and resources you can use to maintain your skill set.
Finally, overcome your stage fright!
If you have a fear of speaking in public, it is not because you lack knowledge. Debilitating nerves may and do affect influential executives and well-known performers. So, own your style and upgrade it with these training courses.
The School of Meaningful Experiences (SoME) offers courses on effective communication where you can learn from pros in the field. To assist you in being a great communicator, they provide a variety of communication training courses.
Communication Programs are available for entry-level professionals, team leaders, mid-managers, and women in the workforce. Solely on the foundation of the Six Cs: Communication, Curiosity, Creativity, Competence, Confidence, and Collaboration.
One of the key competencies required in the business environment is communication, and the SoME communication courses are one of the best available courses in the market for managers, executives, and employees.